Code of Conduct
This Code of Conduct applies to WFSC members, skating students and visiting skaters to ensure everyone conducts themselves in a responsible manner consistent with the values of fair play, integrity, open communication and mutual respect. All members, skaters, coaches, parents and caregivers present at WFSC sessions must abide by the following:
Respect each other
Skaters are expected to be respectful and courteous to all other skaters, coaches, parents, Club Committee and rink staff, both on and off the ice.
Senior and established skaters are encouraged to be understanding of newer and younger skaters and to assist them in understanding these protocols.
Respect all coaches and officials.
Suggestions offered by coaches and officials are to be received with respect and courtesy.
Our coaches are skaters too. Please allow them to enjoy their own practice time without interruptions.
Parent/Caregiver responsibilities
Parents/caregivers of younger skaters are responsible for the behavior of their child during all sessions.
Skaters under the age of 12 and other children MUST NOT be left unattended while at the rink.
Zamboni/Ice Grooming
No skating whilst the Zamboni is in use.
Skaters may not enter the ice surface until the Zamboni is completely off the ice and the rink-side doors to where the Zamboni parks are shut.
A coach or Daytona staff member will give permission to enter the ice surface.
Rink Fees
Rink fees are in addition to skating lesson fees. Please ensure you have paid before you get on the ice. Failure to do so may result in a 1 month ban from the ice rink.
Pay attention
Look in both directions before entering the ice or skating away from the boards.
Check behind before changing direction.
Be aware of skaters at the start of a jump or spin, and do not cross their path.
Follow the Open Session traffic flow
Follow the traffic flow during open sessions, figure skaters practice programs, aspects of routines and skills including jumps, spins and patterns.
Skate in an anti-clockwise direction when warming up or skating laps.
Skaters should always be moving on the ice unless receiving instruction from a coach.
Skaters should stand by the long sideboards if stationary.
Conversations and games happen off-ice.
Skaters working together in groups who are not in a lesson need to do so attentively to the safety of others. Skaters may be asked to stop if this type of activity becomes a distraction to other skaters.
GET UP IMMEDIATELY AFTER A FALL unless injured or in need of assistance.
Right of Way Rules
All skaters and coaches need to be aware of skaters at all-times:

Mid-spin skater – A skater mid-spin has the right of way to finish their spin over all others.
Programme skater – The skater whose programme music is playing and who is wearing the bright coloured arm band (or bib) has second priority of right-of-way. This skater with coloured arm-band always has a priority of the skating direction.
Lesson skaters – A lesson skater has the third priority for right-of-way (This includes skaters in the harness).
Do not skate between members of an Ice dance couple, Pairs team or Synchronised team.

Abuse or exploitation of the right of way rules may result in disciplinary action.
Practice Patterns
Spins are best practiced at centre ice.
Standstill jump practice is best placed on the goal lines in the corners opposite the Lutz corners.
Edge jumps are generally practiced on a continuum just outside of center ice.
When practicing the Lutz try to be especially aware of your surroundings when you are in the Lutz corners. Remember that the approach to a Lutz is long and blind. The skater doing the Lutz is not likely to see you.
Clockwise Skaters -whilst most skaters are counter-clockwise skaters, please be aware that we have some skaters who spin and jump in the clockwise direction. Be mindful of each other to avoid collisions, particularly in both Lutz corners.
Dance and moves in the field patterns utilise the perimeter of the rink (using the continuous/perimeter axis). These patterns vary and, depending on the level of the skater, may fully utilise the ice surface.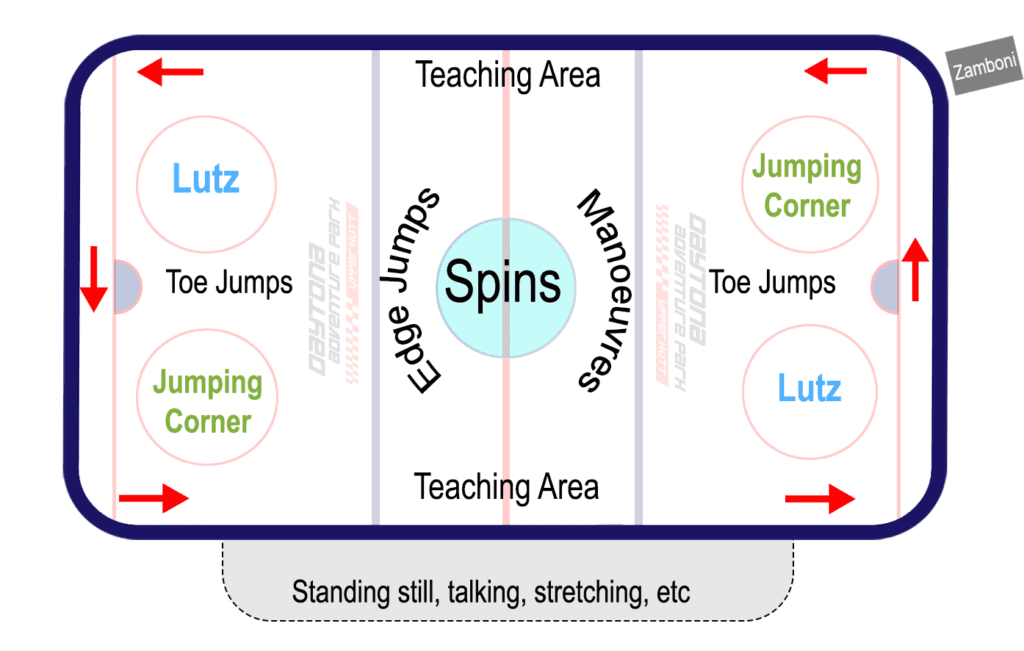 Attitude
Apologise if you interfered with another skater's practice. Regular interferences may be judged as deliberately disruptive or careless behaviour and subject to disciplinary action.
Bring a good attitude to every session regardless of your frustrations (either with yourself, your parents, your coach or other skaters and coaches).
Any display of negative behaviour (e.g. stomping, skating aggressively without regard to others, skating to intimidate and using foul language) will result in immediate removal from the ice.
Drugs/Alcohol
Any skater who is under the influence of alcohol, drugs or any medication that causes impairment may not skate.
Other
Skating with headphones on during open club sessions is not permitted.
Long hair needs to be secured away from eyes.
Any clothing items that affect vision and/or hearing are not permitted.
Adornments/embellishments must be securely attached to your clothing and any items that fall onto the ice must be picked up immediately.
You are responsible for the maintenance of your own skates and equipment. WFSC reserves the right to refuse to allow persons to use skates or equipment that they deem unfit for use.
Eating, drinking (other than water) and chewing gum is not permitted on the ice.
Students are not permitted to have cell phones on the ice during lessons.
Wear appropriate clothing and gloves. Jeans, flared/wide legged pants, extra long pants, or pants with ties/drawstrings at base of leg are not to be worn on the ice..
Consider protective gear such as knee pads, elbow pads, crash pants, helmet etc as appropriate to your level of skating.
Note that helmets are required for all beginner students during classes.
Music
During club sessions music should only be played from the rink side equipment following the principle that music alternates:

A skater's programme will be queued on the first come first serve basis.
Programmes may not be restarted unless there is a music malfunction or the music player is free (including coaches).

Music alternating means:

A coach may only cut in line twice during a 30 minute session.
A non-lesson skater may be bumped one spot in line before the programme music is played when the need arises. A coach cuts the line in order such as 1 lesson, 1 non-lesson programme, 1 lesson, 1 non-lesson programme.
Non-lesson skaters may request music every 15 minutes unless other arrangements are made, or ice conditions allow.
Representing the Club
Only members in good standing with the club will be allowed to represent WFSC in competitions.
Child Safety
WFSC is committed to the safety and protection of children and youth.
All members, coaches, committee members and volunteers who represent WFSC and who interact with children or youth in both a direct and/or unsupervised capacity are expected to follow the WFSC Child Protection Guidelines.
If you witness inappropriate behaviour with a minor, are suspicious of it or a child discloses it to you, it is imperative that you inform a coach or the WFSC committee as soon as possible.
Anyone has the legal right to report abuse, disclosure of abuse, or suspicions of abuse directly to the police or Oranga Tamariki or to any other agency.
Prohibited Conduct
Bullying or harassment in any form is prohibited by WFSC.
Harassment is any improper or unwelcome conduct that might reasonably be expected or be perceived to cause offense or humiliation to another person, or any unwelcome conduct of a sexual nature.
Bullying is an ongoing and deliberate misuse of power in relationships through repeated verbal, physical and/or social behaviour that intends to cause physical, social and/or psychological harm.
Bullying or harassment may involve conduct of a verbal, non-verbal or physical nature, including written and electronic communications, and may occur between persons of the same or different genders.
Any form of bullying or harassment is considered a serious violation.
Sanctions
Any skater/member who does not follow these protocols may be asked to leave the ice for the remainder of the session with no refund.
WFSC Committee members and/or coaches, may request that Daytona Adventure Park remove a skater or parent from the ice or building for violations not limited to safety, rudeness and/or aggressive behaviour.
In the case of on-going unacceptable behaviour, WFSC will follow this process:

First infraction. Verbal warning to skater/member.
Second infraction. Written warning to skater/member or parent/guardian.
Third infraction. Removal from the skate programme or suspension of Club membership.

Any form of verbal, physical, sexual or racial abuse is considered a serious violation and will result in immediate expulsion from the session with no refund.
Where there is a serious violation of a member or skater's conduct it will be referred to the Club Committee for discussion, and additional action may be considered including suspension of Club membership or banning from the skating programme.
Complaints
Any behaviour that is a safety concern should immediately be notified to a Coach or rink staff.
All other complaints or concerns must be addressed to the Committee in writing.